CII-OECD Workshop on Innovative Efforts for Universal Quality Education, July 2014
From Bihar to Bangladesh, Pratham to Portugal, Uttar Pradesh to United States – educationists from across the world and India converged at a workshop on Innovative Efforts for Universal Quality Education organized by CII's central higher education division in partnership with the Organisation for Economic Co-operation and Development (OECD) and Planning Commission in New Delhi on 10-11 July. The aim of the workshop was to look at successful innovative practices in primary, secondary, higher education, as well as informal education, and explore models which were worth emulating and scaling up to improve the quality of education.
Case studies of notable efforts included that of the success of Bihar government in reducing the drop-out rate in schools from 26 per cent in 2005 to 1 per cent in 2011, increasing the gross enrolment ratio (GER) in higher education from 52 per cent in 2007-08 to 80 per cent in 2011-12 and reducing the student-classroom ratio from 95 in 2005 to 56 in 2013. From Bangladesh there was a case study of non-government organisation (NGO) Brac which focuses on education and uses innovative and cost-effective methods to increase the spread of quality education. From within the country there was the case study of Bharti Foundation which provides high-quality free education in roughly 250 schools in northern region in public-private partnership mode. There were similar examples from South Africa of the Tutudesk campaign; of Poverty Action Lab and its evaluation methodology specifically for educational innovations; of the social innovation labs of Bhopal-based NGO Oasis and its museum schools and Pratham's Aser initiative to improve the quality of education in rural areas.
Learnings from this workshop are going to be part of a report which OECD is planning to release early next year. On behalf of Planning Commission, Mr Pawan Agarwal, Advisor (Higher Education) felt that the government's job was to create platforms where people from varied geographical locations and backgrounds could share their experiences for cross learning and this workshop was one such effort in that direction. Speaking on behalf of CII, Mr Vijay Chadda, Member, CII National Committee on School Education & Chief Executive Officer (CEO) of Bharti Foundation said that among the chief concerns of CII in school education was addressing issues such as standardisation of education delivery by creating learning platforms for teachers, tackling absenteeism of both teachers and students and promoting the use of technology. Focus on ethics and good moral practices was another area, he said, where CII felt that attention was required and it was working with its industry members on creating some pilot projects.
In his inaugural speech, Founder and CEO of Pratham, Dr Madhav Chavan said that there was a general perception that innovative practices and ideas emanated only from the private sector whereas till a decade back there were several examples of innovating thinking within the government which had somewhere got lost in the quagmire of policy and regulations. He called for need to reignite that innovation from within the government system and suggested leveraging of bodies such as SCERT, NCERT and DIET towards that end. He also recommended awards for noteworthy innovative efforts in the government, in line with incentives which are given to non-government bodies / individuals. Senior Analyst and Project Leader at OECD's Centre for Education Research and Innovation (CERI) Dr Stéphan Vincent-Lancrin who is working on the report which will emerge from the workshop expressed hope that the examples of innovative practices will lead to flowering of many more such initiatives all over the world.
Speakers at the two-day workshop came from across the globe including the USA, the UK, Australia, France, Thailand and Bangladesh. They spoke about the initiatives and challenges in the education sector in their countries and regions. The discussions included presentation and discussion of innovative policy programmes and projects for promoting education. Empirical evidence on the effectiveness of these programmes in terms of quality, access, affordability, efficiency and social externalities were deliberated upon.
Slideshow at a glance...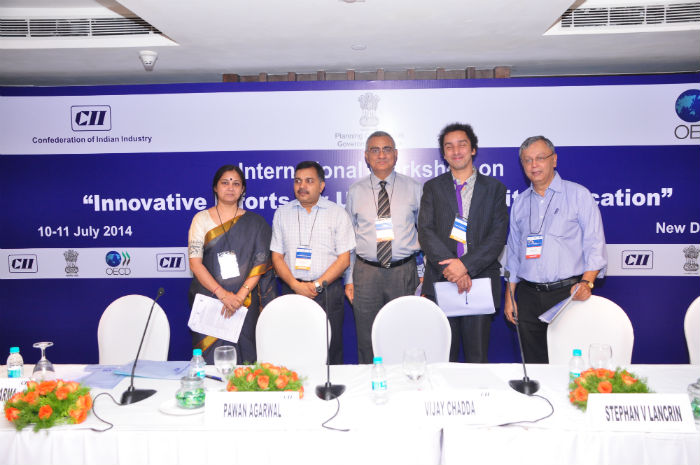 Presentations by the Speakers